Apply for Texas Journalist of the Year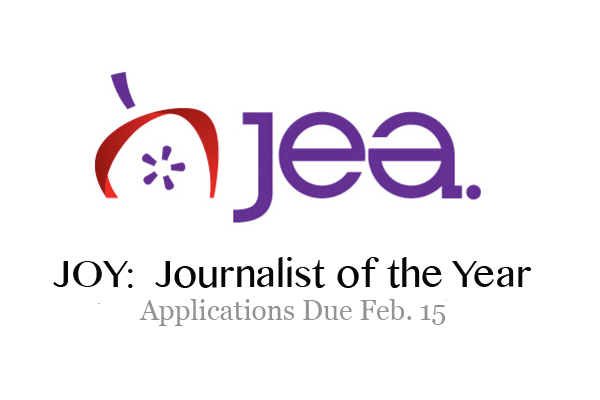 JOY
Texas' Journalist of the Year Contest
Where should I start?
Look at this presentation from JEA.
When are applications due?
JOY applications are due on Friday, February 15
What should the JOY portfolio look like?
JOY applications should have a link to a digital submission to be considered for both Texas and the national JEA JOY contest. Students are highly recommended to create a website to house their work to be considered for the award. Here's an example: https://kellenbrowning.wordpress.com/
How are applications judged?
The Texas JOY will represent Texas for JEA's National Journalist of the Year. Here are the JOY guidelines for JEA. Judges consist of professional journalists, former advisers without ties to the participating schools and supporters of Texas scholastic journalism. The judges will score portfolios using a rubric modeled after the JEA scoring guide.
When and where are winners announced?
The winner will be announced at the ILPC spring convention.
What scholarships are available for JOY applicants and winners?
The Texas Journalist of the Year will receive the $1,500 Bill Taylor Memorial Scholarship. The state winner will compete for a scholarship at the JEA national level.
When can we expect feedback from the JOY critiques?
Written critiques are returned to all participants after the winner is announced in May.
What is a Checklist for Submission?
–Applicants have the strongest chance of success if they follow this checklist when preparing their portfolio.
–Official high school transcript or a counselor's statement including journalism classes taken, grades and current GPA.
–Student should be a high school senior and should have an overall GPA of 3.0 on a 4.0 scale.
–Adviser is a current member of TAJE and JEA
–Action photo of applicant involved in some aspect of student media, and an extended caption written for that photo. If there is more than one dominant subject in the photo, please use location of candidate (left, right, etc.).
–Three letters of recommendation from those who know the applicant well and understand the impact of the journalistic experience on the student's life (no letter should exceed two pages in length).
–Personal résumé
–Self-analytical essay: Students should write with passion and make an impact on the judges because this essay functions as the applicant's one-on-one interview with the judges. Essay should not exceed two pages in length.
Apply Now
Online application
Need Help?
Contact State Director Leah E Waters at statedirector@taje.org or call (972) 822-6950.