TAJE Announces Texas Journalist of the Year
St. Mark's School of Dallas senior Kobe Roseman represents Texas as its 2018 Journalist of the Year, moving up to compete for the national JOY title in the Journalism Education Association contest that will be announced in April.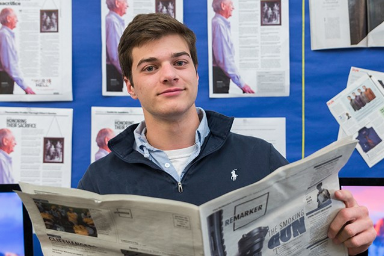 The Texas Association of Journalism Educators' JOY committee reviewed portfolios from other applicants from across the state in early March. Judges chose Roseman based on his comprehensive and professional-quality collection of work as the best candidate to represent scholastic journalism in Texas.
In an introductory welcome on his portfolio, Roseman details in concise precision the core strengths that separated his portfolios from all the others: "At its core, journalism is a cycle of listening and responding. And the goosebumps stick because every inch of that cycle is my passion."
Roseman serves as editor-in-chief of The ReMarker student newspaper and is the sixth consecutive St. Mark's student to be named as the Texas JOY.
"Kobe is one of those rare journalists—and, note, I didn't say 'student journalist'—who can do it all and make it look easy," St. Mark's adviser Ray Westbrook said. "Story development, packaging and displaying, design, writing/editing, photography, branding and social media — he's among the best I've ever worked with."
Entries were judged by a panel of three people, two former advisers and one professional journalist, in which they analyzed applicants on leadership, writing, story development and coverage offerings and visual communication.
The committee members spent hours analyzing and deciding between the six different entries but finally chose unanimously and unequivocally Roseman as Texas' JOY.
Westbrook says Roseman's "calm, deliberate leadership" is what really elevates him as a rare find as editor of a 70-person staff.
"Reporters and editors respect him as a person, and that translates into respect for his comments and critiques, suggestions and, when called for, total re-writing of stories or a re-design of a page," Westbrook said. "Kobe has made this year one that is incredibly fulfilling for this adviser, because I know that when Kobe is attached to a project, it will be executed with the utmost of professionalism, concern and care."
Roseman will represent Texas in the JEA national JOY competition and will be recognized at the JEA/NSPA National Spring Journalism Convention April 13 in San Francisco, where the national winner will be named.